Tuesday, December 14, 2004

I WANT MY PRESENT SANTA....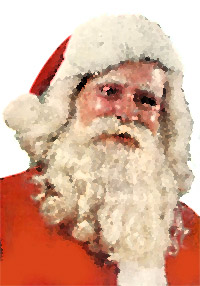 If I remember this, I would laughing out loud, how I was so desperado to get a present from Santa.. I was sent to a Catholics school since I was in a play group till my junior high school, yes at that time the best school in town were Catholic school, actually we are Moslem..
I was in 3rd grade of elementary school and my age was about 8 yrs something when I knew about Christmas, when December was on the way, my friends always talked about present from Santa, they always got a present from Santa in December, and I asked them how to get the present, they told me, that I had to be good behave, provided a bunch of grass for Santa's deer and then wrote a letter to him and told what I wanted for my present.
So since then I always did what my friends told me, when December came.. collect green good grass, be a good girl, and wrote him a letter.. I put them all at the corner of my room.. the next day when I woke up I didn't find anything, but my stuffs, but when I was in school, all my friends were happy and told about what they got.. I just could only sat and heard their story.. and so the next December I did the ritual they told me.. still nothing else at my room's corner..
And the mystery become very clear to me when I was in 6th grade, no wonder they always got the present because they were celebrate CHRISTMAS, they are Catholic, and all the presents were come from their parents not from Santa.. *sigh I was really prepare for the grass, I took the grass from a field and I collected them in a basket*..
FOR MY FRIENDS WHO CELEBRATE CHRISTMAS, WOULD YOU MIND GIVE ME A CHRISTMAS PRESENT? SO I COULD FEEL THE AMBIANCE OF CHRISTMAS..EMAIL ME FOR MY COMPLETE ADDRESS
>>