Wednesday, January 05, 2005

HELPING WITHOUT AN EYE TO THE REWARD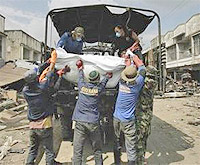 Local volunteers load a corpse in a plastic bag on a truck Tuesday, Jan. 4, 2005 in Banda Aceh, Indonesia. Nine days after the earthquake-triggered tsunami struck, more and more bodies are found raising the death toll in Indonesia alone to more than 94,000.
I was sad when read a statement from an International volunteer that we *read Indonesian volunteer* did nothing in Aceh , please don't make statement like that, Indonesian work hard on this, but maybe just one or two volunteer didn't, but most of us are working very had. Let's minimize our differences and help them, don't blame each other.. Both Indonesian and International Aid working together to help Aceh peoples ..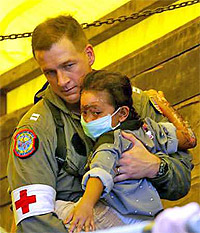 A U.S. Navy medical worker carries an injured Acehnese girl onto a U.S. helicopter at the airport in Banda Aceh, Indonesia January 4, 2005. An army of aid workers raced on Tuesday to supply food and water to millions of tsunami victims and the United Nations (news - web sites) warned a death toll of 150,000 would climb as more bodies are found and disease stalks survivors.
#both photos from
yahoo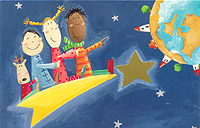 thank you to
Dayu
for New Year greeting card, I received it this evening..