Wednesday, February 16, 2005

BECAK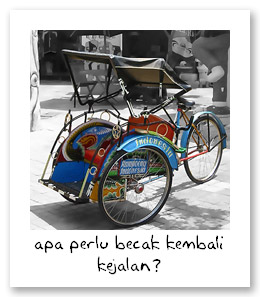 A becak is a tricycle which carrying passenger seat in the front. It is for hire. It will carry passengers and goods from one place to another. Its motive power is a human. Becaks have been banned from Jakarta, because they are deemed as inhumane but in my neighborhood they're still becak to take us. I like to ride by becak because you can feel the breeze..
When we were kid, there was always a becak picked us from the school. I have a story how honest the abang becak (becak's driver) was. When our home moved a far away from school, a driver picked us from school, till one day, after a long waiting, our driver didn't show up, so we (my sister and I) decided to take a becak, and the worst was, we didn't know the address (we were about 8 and 9 years old) but still the abang becak tried to find out our address by taking us to our previous home and asked our neighbor about our new address and then he took us home.