Tuesday, February 01, 2005

SWEET or ..?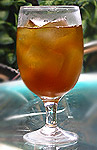 in my silly opinion ICE TEA is a glass of tea and a bunch of ice cube no more no less, no sugar, no lemon..
So I always pissed off if I ordered a glass of ice tea in a restaurant or others eating place, the waiter always asked :"sweet tea or plain tea?" and I never bore to answer with this: "mas, please listen to me carefully, I just ordered a glass of ice tea, I think it supposed to be ice and tea no more and no less" and then the waiter reply again :"yes mam, but is it sweet or plain tea?" whoooo arggggghh did I wrong?
But it is not available in an expensive or in a hotel's eating place, because they always serve tea and sugar separately, so they didn't bother to ask me "sweet or plain tea".. I love ice tea, I don't like hot tea or tea in a traditional way , I just like ICE TEA.. viva ICE TEA.. no sugar no lemon just ice and tea...!