Friday, July 01, 2005

PUBLIC TRANSPORTATION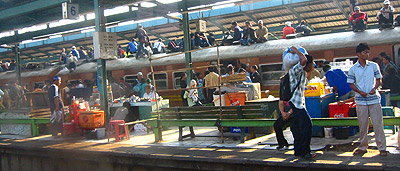 to fulfill
my son's holiday
, I would introduce him to our public transportation..
to SUNDA KELAPA harbor : from our home we took metromini 74, to blok M bus terminal, on the way, there were several street music performer *pengamen?* performed at the metromini, and my son asked me: "bu why they play music on the this bus?".. he don't know that the performer were looking for money.. after we arrived at blok M we headed to Kota by bus way, and then continued with Kopami to get us to SUNDA KELAPA harbor.
and my son just gave up and said :"bu could we go home by taxi? I don't like metromini and kopami, no AC there"
to BOGOR : from Bintaro we took KRL executive *Sudirman patas?*, not bad, and just took 20 minutes to arrive at Dukuh Atas, and then we took bajaj to go to Gambir train station to continue our journey to Bogor by Pakuan KRL, and it was not bad at all.. the train still clean. and the AC was still cold.
and my son enjoyed the Pakuan KRL, I told him this KRL like subway..
In Jakarta's chaotic traffic jam I think it is good if the authority improve our train service, not just build bus way track, because it fast and the track isn't take much site as much as if we build a freeway... so the commuters could take a train to Jakarta..
We made a journey by KRL on Wednesday July, 30 2005, and yesterday Thursday July 1, 2005, 2 KRL train crashed. My deep condolence to the victims